De'Mon Hobbs was born and raised in Stop Six. This historic neighborhood in Southeast Fort Worth means so much to his past.
So does its future.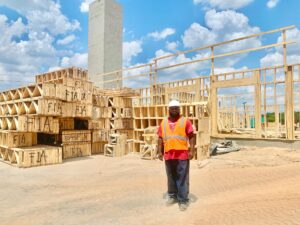 Hobbs, 40, attended Fort Worth ISD schools in Stop Six and graduated from Dunbar High School. Still a Stop Six resident, he witnessed June 2020 closing and 2021 demolition of the former J.A. Cavile Place public housing community.
The clearing of that land off East Rosedale and Stalcup Road for the construction of Cowan Place Senior Living also piqued his interest. Hobbs, a former day laborer, stopped by the construction site in November in hopes of landing work. He spoke to a BLOCK representative on site about a job and, after the interview process, was hired as a gatekeeper/site assistant.
"This new addition to Stop Six is a long-awaited sight," said Hobbs, who qualified as a Section 3 worker. "To see nothing turn into a beautiful place to live and be part of that is definitely an honor, so when I saw something was taking place here, I inquired."
Hobbs' ties to the culturally-significant African American community are also meaningful to BLOCK Companies, general contractor for Cowan Place.
"It is crucial to engage the residents of Stop Six in the redevelopment of this community," said Paul Kummer, BLOCK Companies VP Operations. "With the multitude of jobs that these projects will offer Stop Six residents, they will have the opportunity to be exposed to various construction trades and obtain new skills that will undoubtedly enhance their future career options.
"Stop Six residents who are working on these projects will serve as advocates with their neighbors by sharing about the high-quality, affordable housing that is being developed and the difference it will make in the overall transformation of the entire community."
Hobbs has completed his OSHA 10 certification and is now also certified to operate heavy equipment safely and efficiently such as the forklift and skid steer, which are used for site purposes and to assist subcontractors.
Hobbs' duties vary from day-to-day. He is responsible for ensuring that the jobsite is always safe, secure and clean. With his certifications to operate heavy equipment, he is able to off-load materials, rough grade the construction site, as well as operate the mechanical sweeper to ensure dust and other debris are contained on the jobsite and stay off of Fort Worth streets.
"Since joining the BLOCK Companies Cowan Place project, De'Mon has quickly become a very valuable member of our team," Kummer said. "De'Mon is motivated and reliable and always willing to take on and or learn any new task on the jobsite."
Hobbs plans to remain with BLOCK throughout the five phases of the development for the Stop Six Choice Neighborhood Initiative. He's excited about what's to come for his neighborhood.
"More people would be willing to come to Stop Six and see what it's about and live here more so than before," Hobbs said. "Things are turning around. It's a more positive note."
McCormack Baron Salazar, the nation's leading for-profit developer, manager and asset manager of economically integrated, urban neighborhoods, is spearheading the Housing portion of the Stop Six CNI and the Cowan Place development. Bennett Partners is the architect.
Construction of Cowan Place Senior Living began in September 2021. Pre-leasing for the 174-unit community designed for residents 62 and older is scheduled to begin in Fall 2023.