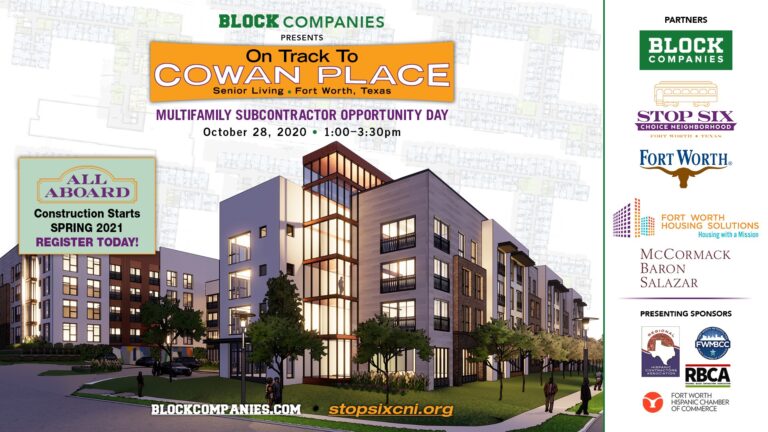 BLOCK Companies and Fort Worth Housing Solutions invite you to learn more about the Cowan Place senior living development during the Multifamily Subcontractors Opportunity Day from 1 to 3:30 p.m. Wednesday, October 28, 2020.
Register now at https://docs.google.com/forms/d/e/1FAIpQLSe9Ff7PIIQLFEDYOSucE1y0SMGjYCCryrrpGrYrkqAMhkh4yQ/viewform
BLOCK Companies is the general contractor for Cowan Place, Phase I of the Stop Six Choice Neighborhood Initiative. Learn more about Cowan Place here.
BLOCK is working under the direction of housing lead partner McCormack Baron Salazar, the nation's leading for-profit developer, manager and asset manager of economically-integrated urban neighborhoods.
BLOCK joins MBS and other partners and sponsors in a commitment to creating strategic, inclusive business partnerships to support the Choice Neighborhood Initiative and strengthen the local construction community.
Featured speakers:
Gyna M. Bivens, Fort Worth City Councilwoman, District 5
Brian Dennison, Senior Vice President, Development and Assets Management, Fort Worth Housing Solutions
Christina Brooks, Chief Equity Officer, City of Fort Worth
Louis Bernardy, Senior Vice President/Director of Development, Texas, McCormack Baron Salazar
Jason Keller, Managing Partner, BLOCK Companies
Christina Brooks, Director, Diversity, Inclusion and Marketing, BLOCK Companies