One of the Stop Six Choice Neighborhood primary partners, Urban Strategies Inc., has named Simeon Henderson, most recently the Southeast District Executive Director for the YMCA Metropolitan Fort Worth, as Senior Project Manager for the People portion of the neighborhood transformation initiative.
The landmark community revitalization effort is seeded by a $35 million U.S. Department of Housing and Urban Development (HUD) grant awarded to Fort Worth Housing Solutions and the City of Fort Worth in April 2020. The guiding Stop Six Choice Neighborhood Transformation Plan includes replacement of the former 300-unit Cavile Place public housing community with mixed-income, mixed-use developments featuring community amenities and essential services.
The plan was developed by residents, community leaders and stakeholders to create a vibrant, safe and sustainable community – a "neighborhood of choice." It is organized under three pillars – People, Housing and Neighborhood in alignment with HUD's Choice Neighborhoods program.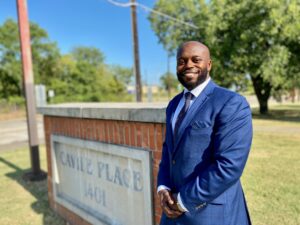 Henderson will lead planning and implementation of the People strategies on behalf of USI, which is responsible for ensuring that former residents of Cavile Place are supported and thriving throughout the community's transformation. Cavile closed June 30. Residents have the ability to return as new residential properties come online over the next few years.
In his new role, Henderson will be responsible for equipping residents with the tools they need to be successful and ensuring they remain engaged with the Choice Neighborhood initiative to experience the plan's benefits. He will support a team of dynamic professionals including case managers and an education specialist – each focused on meeting the needs of former Cavile residents.
He will also coordinate closely with Lachelle Goodrich, Stop Six Choice Neighborhood Initiative Director for Fort Worth Housing Solutions, and other key initiative partners, including the Fort Worth Independent School District and McCormack Baron Salazar, which is coordinating the Housing portion of the plan. The City of Fort Worth leads the Neighborhood portion.
"Simeon Henderson is a proven leader who is focused on cultivating change and partnering with stakeholders to collectively lead community innovation," said Donovan Duncan, USI executive vice president. "We welcome him to our team and look forward to working together to ensure that residents are thriving."
Prior to joining USI, Henderson spent nine years with the YMCA organization in Milwaukee, Kansas City and Fort Worth, most recently serving the Southeast Fort Worth community during the opening of the state-of-the-art William M. McDonald YMCA in the Renaissance Heights development. He is a U.S. Marine Corps veteran who earned his undergraduate degree in economics from the University of Wisconsin – Milwaukee.
"I am proud to join the Urban Strategies, Inc. team because the organization's mission and vision seamlessly aligns with my core values," Henderson said. "The Stop Six community has such a rich history and culture. My goal is to partner with community stakeholders to provide equitable opportunities for every resident. As a servant leader and Marine Corps veteran I am honored to help support the neighborhood revitalization."
About Urban Strategies, Inc.
Founded in 1978, Urban Strategies, Inc. is a national nonprofit leader based in St. Louis with extensive experience in implementing data-driven human capital development strategies in communities that are undergoing comprehensive physical revitalization. USI supports communities while working with community partners to develop equity-centered economic opportunities, cradle-to-college/career success, high quality health services and a range of comprehensive service supports. The organization has been involved in neighborhood transformation efforts in more than 24 cities and more than 40 neighborhoods across the nation.
About Fort Worth Housing Solutions
Fort Worth Housing Solutions is changing the face of affordable housing by providing mixed-income rental and home ownership opportunities that provide the foundation to improve lives. The agency was established by the City of Fort Worth in 1938 to provide decent, safe housing for low- to moderate income people. Today, the agency operates 40 properties with almost 6,700 affordable units and manages about 6,000 federal vouchers that help families and individuals cover rental costs. Fort Worth Housing Solutions works closely with numerous partners to promote economic independence and positive change in the lives of the more than 25,600 individuals we touch on a daily basis. Learn more at www.fwhs.org.
Media contacts:
Cindy Wallach
cindy@sagemarketingpr.com
314-922-8060
Kristin Sullivan
ksullivan@fwhs.org
817-706-9811