Former J.A. Cavile Place resident Shuntoyia Shaw found her calling and is chasing her dream. She started a small business, Top of the Line Technician, in 2020 in part through support from Fort Worth Housing Solutions and USI Fort Worth, and is providing mobile phlebotomy and COVID-19 testing.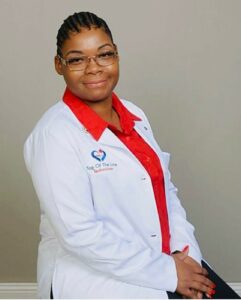 Shaw, 34, began her small business journey about five years ago after moving back to Texas from Louisiana. She always worked nights in hospitals, but decided it was time to go out on her own.
She didn't have a high school diploma, a car and the pandemic made matters worse. The staff at Fort Worth Housing Solutions, including Stop Six Choice Neighborhood Initiative director Lachelle Goodrich, shared resources and gave Shaw the support she needed at the time she needed it the most, including helping her form an LLC and get Top of the Line Technician off the ground.
"They literally saved my life," Shaw said. "They really made a difference to me because they were there when nobody else was."
Shaw was living with her aunt before moving into a Cavile Place apartment as community plans to close the property, demolish it and build new, mixed-income residential communities were finalized. Shaw relocated to Stallion Pointe Apartment Homes, earned her GED and enrolled in Tarrant County College with plans to resume her clinical work.
A position with the City of Fort Worth as a COVID-19 vaccination site assistant led to her becoming a COVID-19 Stop Six Influencer with the help of USI Fort Worth. As part of the Stop Six CNI transformation plan, USI Fort Worth is providing case management and other support to 219 former Cavile Place residents, 99 percent of whom are actively pursuing a personal improvement plan. Shaw's new business and continuing education are part of her plan.
"Ms. Shaw is the perfect example of a young lady striving to tap into her purpose," Goodrich said. "No matter what life hurdles she may encounter; she will confidently clear the way."
Shaw enrolled in the Center for Transforming Lives' Level Up Microenterprise Program to gain tools needed to start her enterprise, such as creating a business plan, learning how to research clients and marketing support.
She recently graduated from a medical EKG program through Tarrant County College. She's partnered with several local labs to provide phlebotomy services, including Texas Health Huguley Hospital, Ulta Lab Tests, Labcorp and Sneak Peek Lab.
Shaw's small business will assist individuals who struggle with their routine blood draws. Issues include transportation, being homebound and not having support from family and friends to assist with their medical condition.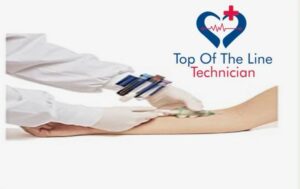 "You have some that aren't really savvy about calling for medical transportation or setting up these things," Shaw said. "I want to be able to provide preventive care because a lot of the individuals that don't make it to get their routine draws, they don't know what's going on with their bodies."
Though her journey is far from complete, Shaw is on her way.
"I want everybody to understand that your life depends on you," she said. "Your life is what you make it and what you create. It doesn't matter where you come from; it doesn't matter how you was raised. If you're passionate about something, the sky's the limit. You can do anything that you want to do with your life.
"There may be a lot of people out there like me who don't have family and don't have nobody to understand that this is my situation, but this is not where I want to be. They don't understand that there's resources and that there's people that can help them. It's all about surrounding yourself with those with are going to help you."