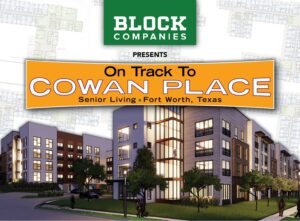 Update: View the BLOCK Cos. Pre-Bid webinar presentation at https://stopsixcni.org/wp-content/uploads/2020/12/Block-Cowan-Place-Getting-Ready-to-Successfully-BID-Webinar-DRAFT-v.6-1.pdf
BLOCK Companies, general contractor for the Cowan Place senior living community in Stop Six, will host a Zoom webinar called "Getting Ready to Successfully BID on Cowan Place Senior Living" from on Zoom.
https://us02web.zoom.us/meeting/register/tZcocuyspzkjG9xG_HBE0GLiNM9JU0TadedT
After registering, you will receive a confirmation email containing the meeting login information. Speakers will provide the most current information on preparing your bid for Cowan Place subcontracting opportunities. Construction is scheduled to begin in Spring 2021.
Topics will include:
1. What to do now to prepare your bid
2. What to expect When the bid is announced
3. Reviewing the bid package
4. Checklist for completing the bid package
5. What happens after you submit your bid for Cowan Place opportunities
Complete the BLOCK Subcontractor Information Form at https://stopsixcni.org/…/BLOCK-Sub-Info-form_FW_Nov-9… and submit it to info@blockcompanies.com by Jan. 14, 2021.