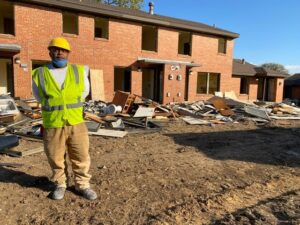 Not so long ago Mark Anderson was a teenager growing up in the Cavile Place community of Stop Six. The oldest of 13 siblings, he remembers his family's struggles and the trouble he sometimes got into over the years.
Time spent away from the community made him realize how much he missed Stop Six – and led him later in life to volunteer at the local Boys & Girls Club, to host cookouts and help clean-up neighborhood parks.
Today, Anderson has a new opportunity: He is a general laborer hired through HUD's Section 3 program and is helping prepare Cavile Place for demolition later this month. The program ensures that residents like Anderson have access to jobs created through HUD-supported projects, including the Stop Six Choice Neighborhood Initiative.
The 22-acre Cavile Place site is the future home of three modern, mixed-income multifamily complexes that will be developed through the initiative.
"Community means everything to me," he said. "It means rebuilding the neighborhood and finding ways to let people know this community is family-oriented and against all violence."
Anderson says he wants to be a model for kids in the community and to show them that they, too, can get involved and help revitalize the neighborhood. He says God has placed him in a unique position to give back to the community he loves.
"If I can grow old, sit back on my porch and see the young kids come up to me and tell me how much I've inspired them then I know I did something right, and I am good with that," Anderson says.
Click here to learn more about the Section 3 program. For information about local opportunities, contact Dennise Babiche at DBabiche@fwhs.org.
— By Dennise Babiche and Keaira English