Gail Phills has a message for former residents of Cavile Place looking to return to the Stop Six neighborhood in southeast Fort Worth.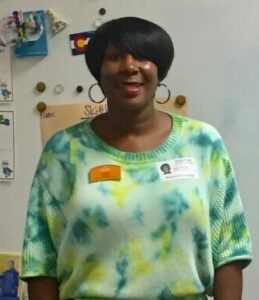 "When they get back it will be even better than before," she said. "There will be even more resources available to them."
Phills was recently named a Family Support Specialist at Urban Strategies Inc., which is one of the primary partners of the Stop Six Choice Neighborhood Initiative. Cowan Place Senior Living, the 174-unit, mixed-income property that is being built at East Rosedale Street and Stalcup Road, is the first housing phase of the Initiative and was designed with residents 62 and older in mind. Leasing begins in 2023.
Phills focuses on economic mobility, helping residents age 60 and older connect with USI partners and employment opportunities. Of Cavile's former residents, 33 are senior citizens. Much of Phills' work centers on developing skills and trades that aid residents in joining the workforce.
For the last 15 years, Phills has been involved in senior services. She spent a decade with the North Central Texas Center Alzheimer's Association as a case manager before being the director of memory care at Sunrise Senior Living in Fort Worth.
She brings extensive experience to USI in dealing with local agencies and networks that benefit residents, especially relating to food and medical services, aging and financial needs.
"I'll be connecting our residents to firsthand resources that are available to them," Phills said. "I know the area very well because I've worked the entire Fort Worth area and Stop Six. Some of our residents have been displaced to different areas in Tarrant County, and I worked those areas.
"I'm very familiar with connecting people to resources quickly and offering insight on things they're going through. I've seen it with our residents, and working with previous clients on basic needs."
The Stop Six Neighborhood Transformation Plan includes replacement of the former Cavile Place public housing community with new, mixed-income rental residences in six phases of development. It includes a neighborhood hub for recreation, educational, health and safety services; commercial districts and space for healthcare and educational, economic and other support services.
"A lot of seniors are so interested in coming back," Phills said. "That's home for them. They're familiar with a particular area or environment. It's very easy to discuss that with our seniors. They know that's an option and we really want them to come back.
"I talked to one lady that lived in Cavile from the age of 17 to 62. That was her entire life. When we talked about her moving back, she said, 'That's all I know and I do want to come back.'"
Cavile Place closed in June 2020, and residents were able to use rental assistance to lease other homes across Fort Worth.
Residents wishing to contact Phills can do so at gail.phills@urbanstrategiesinc.org and (682) 703-2891.