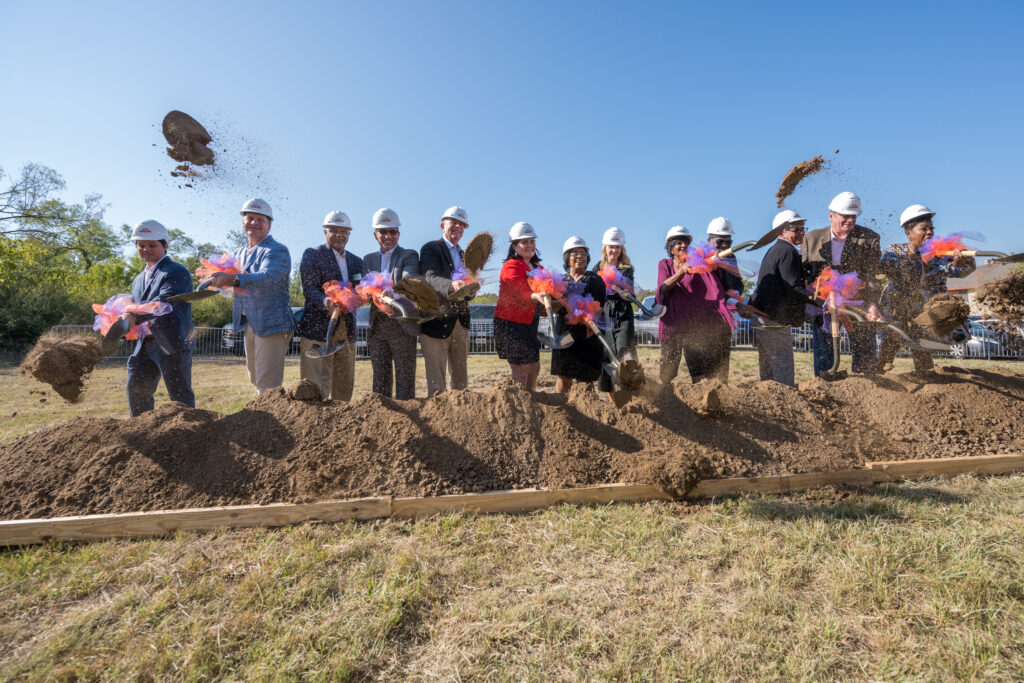 174-unit Cowan Place Senior Living is the first of six modern, mixed-income communities
earmarked for the historic Southeast Fort Worth neighborhood
FORT WORTH, Texas (Sept. 16, 2021) – Stop Six residents, Fort Worth city leaders, developers and supporters celebrated the start of construction today of Cowan Place Senior Living, a 174-unit, mixed-income community that launches six phases of new residential housing planned as part of the Stop Six Choice Neighborhood Initiative.
The groundbreaking event signals the beginning of a comprehensive transformation of one of the city's treasured, African-American communities. Cowan Place is named for Alonzo and Sarah Cowan, two of the first land owners in the Southeast Fort Worth community and for whom the neighborhood was once named.
The multi-year Choice Neighborhood effort is seeded by a $35 million U.S. Department of Housing and Urban Development grant and includes 1,042 new residential units, neighborhood improvements and a multipurpose community hub with aquatics center that voters will consider as part of the 2022 municipal bond program.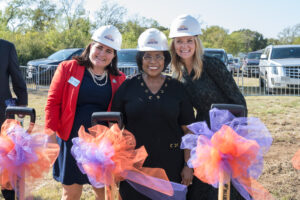 "Cowan Place Senior Living is the result of true community collaboration and has been carefully designed by Stop Six residents and a host of committed partners," said Mary-Margaret Lemons, Fort Worth Housing Solutions president. "This property will complement new home construction already under way in one of Fort Worth's most cherished neighborhoods and leads the way for a full community transformation sparked by HUD's Choice Neighborhood Initiative."
Fort Worth Mayor Mattie Parker said the Cowan Place development is evidence of the city's commitment to strengthening its neighborhoods and ensuring that all residents have the opportunity to live in communities where families thrive.
"We say that it's Go Time in Fort Worth, and Cowan Place and the Stop Six Choice Neighborhood Initiative are another big win for a better, brighter future in our city," Parker said. "Our vision is that all residents will be able to live in neighborhoods with access to safe and affordable housing, jobs, recreational facilities, quality schools, healthcare and grocery stores. And in Cowan Place, we have an incredible opportunity to begin to revitalize a neighborhood while honoring the African-American families who built it."
Mayor Pro Tem Gyna M. Bivens, who grew up in Stop Six, has represented the area on the Fort Worth City Council since 2013 and has long advocated for investment in the area, which lies 15 minutes east of Downtown Fort Worth and the Southside Medical District, and northwest of Lake Arlington.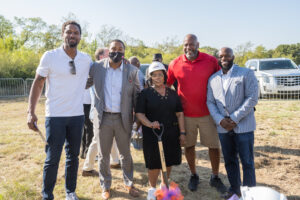 "I'm thrilled to see Cowan Place Senior Living construction get under way," Bivens said. "Fort Worth residents have a deep affection for Stop Six, and many who have moved away over the years – especially our seniors – long to return to a neighborhood filled with the people they love. Cowan Place Senior Living will give them that new opportunity and will be a beautiful prelude to the housing developments to come."
Cowan Place will take about 24 months to build with leasing expected to begin in 2023. A 2020 market study showed strong demand for affordable senior rental in the area regardless of future population growth. Cowan Place represents a $43 million investment in Stop Six and is supported in part by low-income housing tax credits that guarantee affordable rents for at least 30 years.
McCormack Baron Salazar of St. Louis, Mo., the nation's leading for-profit developer, manager and asset manager of economically integrated, urban neighborhoods, is spearheading the Housing portion of the Stop Six Choice Neighborhood Initiative and the Cowan Place development. BLOCK Cos., with headquarters in Houston and Baton Rouge, La., is the general contractor on Cowan Place. Bennett Benner Partners of Fort Worth is the architect.
Richard Baron, McCormack Baron co-founder and chairman, said Cowan Place and the Stop Six Choice Neighborhood Initiative, are precisely the developments he envisioned as he focused his career on rebuilding lower-income communities in the early 1970s. A one-time legal aid lawyer to public housing residents, Baron's company developed the Hillside Apartments just east of Downtown Fort Worth in 1997 and has become the premier developer for communities supported by HUD Choice Neighborhood grants across the United States.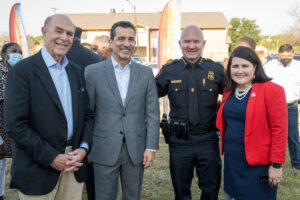 "McCormack Baron is pleased to return to Fort Worth to assist in the transformation of the Stop Six neighborhood. It's about building unity and impacting the lives of families in the community," Baron said. "This collaborative effort wouldn't be possible without our partners. Most importantly, we are touching lives through much-needed revitalization for this community."
Cowan Place will feature one- and two-bedroom apartments designed with residents 62 and older in mind. The four-story development south of East Rosedale Street and facing Stalcup Road will feature stucco, brick and metal facades in a contemporary design notable for its lighted "lantern" that signals a bright, modern future for one of Fort Worth's historic communities.
Apartment residences will wrap around a central courtyard terraced to fit the site's natural terrain. Ground-level community spaces will include rooms for a library and theater, fitness studio, salon, billiards, crafts and space for private meetings with healthcare professionals.
About the Stop Six Choice Neighborhood Initiative
The Stop Six Choice Neighborhood Initiative was developed by residents, community leaders and stakeholders to capture a shared vision for a vibrant, safe and sustainable community with access to quality education, healthcare, services and amenities – a "neighborhood of choice." The neighborhood Transformation Plan adopted in fall 2019 calls for the replacement of a former public housing community with new, mixed-income rental residences in six phases of development, a neighborhood hub for recreation, educational, health and safety services; as well as a commercial district and space for healthcare and educational, economic and other support services.
The U.S. Department of Housing and Urban Development awarded project sponsors Fort Worth Housing Solutions and the City of Fort Worth a competitive, $35 million Choice Neighborhoods Implementation grant in April 2020 to seed the effort. Visit StopSixCNI.org to learn more.
About Fort Worth Housing Solutions
Fort Worth Housing Solutions is the premier provider of affordable housing in the City of Fort Worth. The agency's portfolio includes 40 mixed-income properties across the city with 87 percent of its 7,000 units offered at various levels of affordability to income-eligible residents. The agency also manages federal Housing Choice Vouchers and other rental assistance programs that help about 7,000 families and individuals cover housing costs each year. In all, FWHS ensures that more than 28,000 people have a safe, affordable place to call home each day. Learn more at www.fwhs.org.
Media contact:
Kristin Sullivan, ksullivan@fwhs.org, c 817-706-9811
###